Last few months mail calls
Mail Calls & New Acquisitions
Topic starter
March 27, 2023 1:25 pm
So I've been hoarding a few mail calls over about the last 4-5 months. I haven't gotten round to taking photos due to being busy, lazy to get out the lightbox, not wanting to take bad pictures, wanting to go all out with a fat mail call picture, and well just pure layzness at times. Well tonight I found the energy to at least put everything together for a group shot 😉 and a better individual pornshoot will have to wait until I'm back from my following work trip in a week or so. The past months have been hectic and I just having really been able to go enjoy a good fish, so heres my fishing retail therapy;
• 8/10 condition Daiwa green Emeraldas Ultimate handle and spool. I've always been drawn to the Emeraldas green and these dress up parts were a must ever since I first saw them. Now I just need to find a reel worth putting them on 
• 9/10 Evergreen Opus1 Orange Limited Edition, I just want to say thank you to Greg, I can't believe you would ever let yours go.... JK 😅what a find though, It's new and never used but sadly it was spooled badly and the tape left a little bit of damage within the spool. Thankfully it's not that noticeable, but what a beauty. Having never seen an Opus1 in person before this reel blew my mind as a spinning guy. it just feels like quality. A little on the heavy side, but the attention to detail and craftsmanship are up there. Might just have to get a normal one to fish.
• 9.5/10 Lefty Nambu shiki 100 and matching 5"6 rod (yes I have the full rod not just the handle). What another score and such an iconic reel. Absolutely brand new and never mounted on the matching rod, bad storage has left some small marks. Nevertheless, another stunning reel to own. The red on silver is truly an underated colour combination. 
• 7/10 Daiwa A Fishing APE 100SH, Bape Zillion and NIB black 107S VIBE lure. I've been searching for this reel for quite a while. having started off with an obsession ever since laying my eyes on the spinning version. I eventually managed to get not one but two of them. I'm not sure what it is about the baby puke green or ape logo that's just different, but having managed to find the spinning reels I know I wanted to zillion to complete my little set. With the acquisition of the last lure, I finally managed to complete the full set. Would still be nice to find a new zillion someday, but this part of my collection is definitely my pride and joy. 
• NIB Daiwa Green/gold CV-Z 103L Millionaire and store/show display stand. Since I already have the righty red/gold cv-z, coming across this display stand I just knew I had to complete the pair. And luckily not long after I found the matching reel. It's still so new that the sticker is still in the original packaging along with the manual. I have to say the stand really ties the little display together.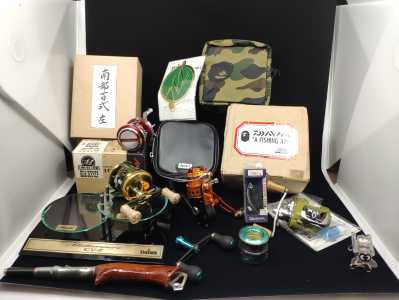 Fantastic work procuring some unicorn reels!
Topic starter
March 28, 2023 11:39 am
@dragon1 cheers I appreciate it. They definitely were not easy to come by.