Fill that gaping hole in your soul.
Topic starter
January 23, 2022 2:07 am
Mail Call September 24th 2021
Sold a rod from the stable, so I had to buy some stuff to fill the gaping hole in my soul.
REELS:
Monster Mosh x Frog Products Toy Machine Superlative 03. Been wanting one for a reeeeeaaaaalllly long time. I won't get into the whole story in this post, but this reel is tough to find, especially at anything that resembles a reasonable price. Usually see them with a 1.2k+ price tag attached and pretty much never on the second hand market. This was easily the biggest score of recent mail calls. I've already added the studio composite handle and black Daiwa knobs. Utilized the stock retainer to carry some of the styling outwards onto the handle. This thing is STOUT and surprisingly smooth after a couple of "tweaks". Already has a home on a certain rod. Will post detailed pics of that later. Couldn't be happier about this one.
Absolutely pristine, looks to be NIB/unfished Z-pride Blue. I'm such a big fan of this ZPI build. Amazing performers, IMO. Really happy to have found another, especially in this condition.
NIB 2021 Antares DC XG, smaller than anticipated, I like it
NIB 2019 Antares HG…fuckin tiny, love it.
Mint 2012 Antares HG…w/red Avail CCC, size falls between the 2021 and 2016 DC, but paming comfort of this reel (in my hands) outshines both.
2014 Conquest. Mint…again, tiny palming profile, love it.
Picked up a full KTF-tuned OG Revo Elite w/Neo Spool. Used with just a few tiny marks on it and some tarnishing/flaking of nose piece and thumb bar, but this thing is actually buttery smooth and in surprisingly great shape for its age. A new thumb bar and nose piece are already on the way. For the price, I couldn't pass it up. Cool little piece of history to have, and take out on the water to try out…how can you go wrong with a full KTF build?
PARTS/ETC:
A bunch of parts and handles for all these builds I'll be doing over the next couple weeks, including the world's most expensive thumb at bar…the KDW for the 19 Antares. Also grabbed the Avail 2016 ALDE BFS XG direct swap spool, that adds some line capacity, allowing me to get enough 8-10lb line on there to make it useful for power BFS apps.
A pair of Frog Products Toto Bricks and the AHPL 💀 surface lure came along with a bunch of other lures I won't post right now. This AHPL is a beast, with a lot of parts but came with zero instructions. I'll figure it out.
RODS:
A couple of these were shipped in the wrong sleeves (Tomahawk and DUCR) but better than nothing.
1) How do you pass up a Brand New Old Stock Tomohawk?…you don't.
F4 70 GT-3 Tags still attached, Composite & Glass blank, Spiral wrapped, Oracle Dragon, along with some of the sexiest/classiest thread work and color choices ever, IMO. The whole build is just stupid-beautiful. I've said it a thousand times…I'll say it again…they just don't make em like this any more.
2) Brand New 2021 Poison Glorious 170H. When Shimano claims a nearly 30% increase in sensitivity for their Bottom Contact stick in this series, adds a much sexier fore nut, reel seat, and trickle-down triangular monocoque rear grip from the Ultima series, you've got my attention. Lotta power in this rod, true to its ratings unlike the Ultima 172H which has always felt like a MH-MH+ to me. Honestly feels pretty damn nice in hand…Let's see how this thing fishes.
3) Like New Poison Ultima 1611ML+
Couldn't pass it up for the price and dammit, they are just plain sexy to boot. Feels like a true Medium power in my hands, but will be assigned some heavier drop shot duties to start, followed by larger Nekos, finesse jigs, and maybe mess around with some stuff outside the box.
4)Brand New Poison Ultima 1610M. A rod I've apparently overlooked for quite some time, and not quite sure why I did. On paper and in hand…It feels like it lines up beautifully for how I like to fish. Medium power, true fast taper, should be money for lighter T-rigs and other plastics.
A few used sticks in great shape came along for the ride as well. All cork is in outstanding condition, only requiring a good cleaning and sealing.
5) Unlimited Rods ULRC 721 ML/MH+ Punch Shot ST. True Medium Heavy+ mid-butt section with a true ML solid tip. Designo blank, cork, clean understated styling. Blank taper characteristics remind me of my EG HFAC 70HST in hand, but a bit lighter weight-wise (not that I give a shit about that, honestly) and given that it's build on a Designo blank, I imaging I'll enjoy this rod a good bit. Based on the line/lure ratings, I was honestly expecting it to feel a bit lighter in power than it is. I had hoped to put it up against the Cristobal Ltd for some head to head action, but this rod is in a different class, power-wise. This is a good representation of how widely things vary from manufacturer to manufacturer in terms of power ratings, etc.
6) Mint Designo DLR C67MHST 4S LTD. Limited Edition, Level 7 Blank (Mmmm), MH Power with the fastest taper I've seen so far (out of the Designos I own). This lighter, true Ex-Fast tip/taper section…makes me giddy inside along with that reels seat. Disappears in your hand, and can't imagine it'll disappoint one bit on the water, especially after what I've experienced with the ML version.
7) Last but not least. Designo "DUCR" (Designo Ultimate Custom Rod)
This Stealth PBF65MLX is one of his company's earlier builds. Top of the line choices for parts, (This is a Semi Order) including multi axis trim/handle section, Purple anodized trim, beautifully painted/modified ECS seat with that Designo logo off to one side and the cute wittle twigger… Seriously though, solid tip, x-fast taper and the balance of this build is what really stands out when it's in hand. True, not that hard to do with a 6'5" stick, but man, does it feel good. I've got a bunch of things in mind for this one. Gonna be a fun little rod.
Thanks for lookin.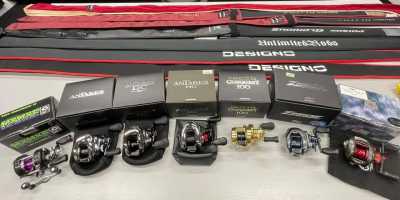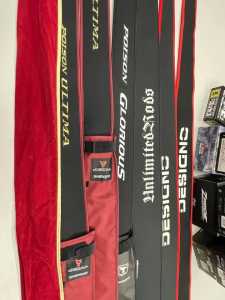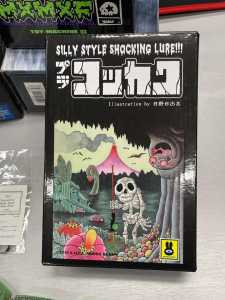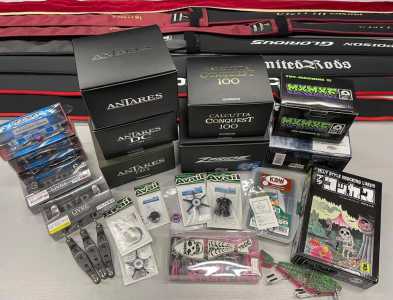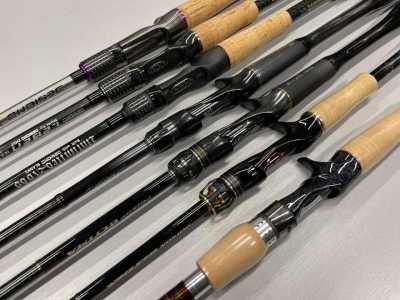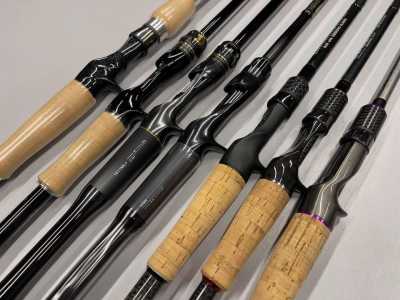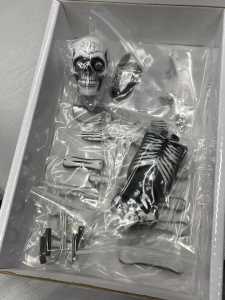 Topic starter
January 24, 2022 4:36 pm
Appreciate the kind words,gentlemen.
December 4, 2022 10:43 am
Friggin' absolutely stellar haul as always.  Thanks for sharing Bruddah.