EG IRSC 71MH Super stallion aurora
Topic starter
December 28, 2022 10:14 am
This rod arrived over the holidays. Still have not had a chance to fish it. First impressions are the it feels much lighter than any EG rod I own, but my stable of EGs has tended toward the heavier models. As usual, it is extremely well balanced with this IS lariat. It floats. I was not intending on using this real with it, but it just fit so well for this initial look. Bite has still been pretty slow with this cold front and I think I'm still at least 7-10 d away from a possible first wave of spawners. I'll report back when I have a chance to fish it.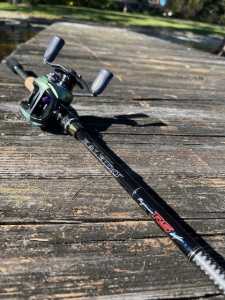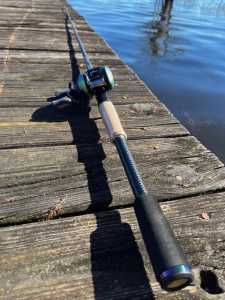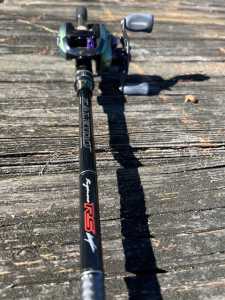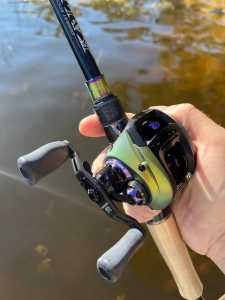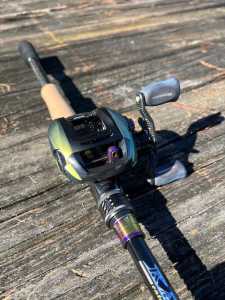 December 29, 2022 6:53 pm
Wowzers, that's a beautiful combo.  Can't wait for more on the water review with lots of tight line results.
December 29, 2022 10:16 pm
Outstanding, waiting on mine…not so patiently…taper close to the TKIC? 
December 31, 2022 3:33 pm
just and amazing setup you have there.. what a treat that you got it for the holidays.
I believe that rod is the limited edition special order only correct? 
Topic starter
December 31, 2022 6:30 pm
Thanks fellas.
@rise: taper seems true to the OG, but can't say for sure until I pull some fish out the water. It's been dink city for me the last couple of weeks, but that's changing fast. A little warm front just came through too, which will wake up some early birds to the shallows in the next couple days I'm sure. 
@goldrod Yes; I put an order in for this one several months ago when evergreen put out a call. I imagine that some may appear at retailers, but I was pretty sure at that time that I wanted an example. 
@polkfish1 can't wait to hear more. Please post some catch pics ASAP. 👍