Topic starter
March 2, 2023 5:26 am
I was starting to getting a little bored with bass gear, so decided to jump on the Mountain Stream train. Still putting things together, but so far I've obtained an Anglo & Company pack rod and about a dozen handmade balsa minnows from various Japanese handcraftsman. Also picked up a couple of MIJ handmade leather lure wallets. Still waiting on the delivery of the 23 Conquest BFS, but I will eventually build a from scratch Avail Abu. The CT SV w/ KTF will have to do for now.  With the re-opening of trout fishing in certain areas of Japan, some items are at such a premium they command 2-3x retail.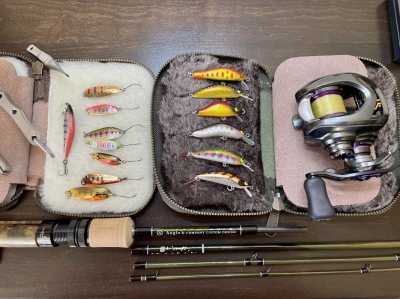 Absolutely beautiful. Lovin the wraps, as well. Who makes em? 
Topic starter
March 2, 2023 5:26 pm
Absolutely beautiful. Lovin the wraps, as well. Who makes em? 
Thank you so much. If your talking about the lure wallets, it is a outfit call Jem Leather Works, superb quality and an outstanding price. The fur lined is $65 and the wool $45. For comparision the Anglo lure wallets resell for $200-$300 and they look almost identical.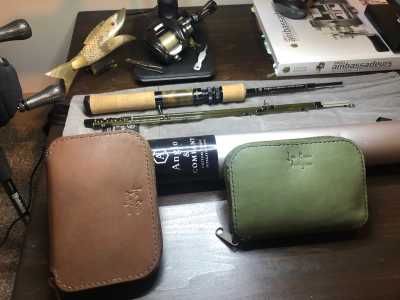 There is a link to the YJP auctions in the blog. 
https://jem-leather-works.blog.jp/archives/16889718.html
Stunning. Thank you for the info. I need a couple of those in my life. 🤙🏼🙏🏼
Awesome... I love Trout, wonderful fish. Elegant, beautiful, sometimes more aggressive than most realize. I spent much of my younger years chasing them, to this day often miss that environment and I'm excited for you.
Topic starter
March 10, 2023 5:29 pm
My impatience for the Conquest BFS release got the best of me. I had been looking and bidding on Abu's for the last month, never finding the right reel for the right price. I was also a little daunted by the fact that I would still have to invest time, effort and 1k for a full avail build. I'm glad that did not come to fruition before I made a hard left turn into a Try-Angle 420 10th anniversary. What a stellar reel, a hommage to the Abu, done up with Japanese pride and craftsmanship. Out of the box ready for 2grams at a svelt 212 grams. Initially from the pictures I was put off by the bronze colored knobs and on the fence about the handle. So much so, that I spent all of 4 hours searching for a 35MM black NS Craft single handle, so I could swap as soon as it arrived. Never found one. While unboxing, after bieng taken aback at how incredibly compact this reel actually is, I realized that the handle and knobs bring an element of further refinement to this reel, I'd go as far as to say boujee. Not much to upgrade on this reel, I ordered a carbon drag (might already have it?) and a double ball bearing cog. Can't wait to get it on the water.
Oh, a day after ordering this I found the right Abu at the right price, it's on its way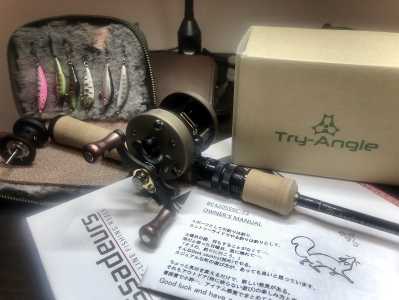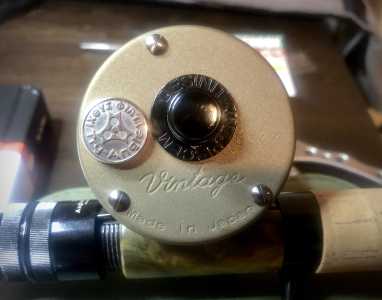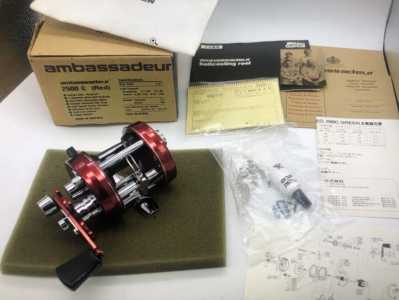 You are a dirty, dirty man…absolutely outstanding. Easily one of my favorite finishes on their offerings. They are stunning in stock form, no need for modding them, IMO. Huge congrats on these two new family members. 🤙🏼