Gamakatsu Luxxe Efreet B76XH-R
Topic starter
August 29, 2023 6:50 pm
I spent a little over two hours pounding 1-1.5 oz lures with my just arrived Efreet B76XH-R today...it it an incredibly impressive rod, and weights in at roughly 128 grams, or ~ 4.515 oz for a rod rated from 1/2 - 4 oz!  This rod paired with my OG Z2020H from 2010 balanced less than an inch to the front of the locking nut.  It was surprisingly balanced and light overall for such a powerful combo.  AND, it is very sensitive for being an XH Regular action!
I was spooled up with 15lb CXX and was able to manhandle the blustery wind today on Percy Priest lake, punching through it with both a 3/4 and 1 oz DW Strike King Bottom Dweller, easily power casting a full sized Buzzjet, handling both the 110 and 130 Whopper Ploppers with ease, distance casting a full sized Super Spook, and still having enough touch to toss a 4.75" Fat Impact on a1/4 oz 5/0 Gamakatsu beast hook with a small belly willow blade.
As well, I feel that this rod would also work for heavier jigs and Carolina Rigs, ARigs and Big Flutter spoons, along with the obvious candidates like the Burrito, glides, swimbaits up to the 4 oz rating.  I don't think I would want to power overhand cast anything over 3 oz, but proper underhand casts should be no issue with 3-4 oz.
Looking forward to getting into some heavy presentation power bites with this rod and being able to really manhandle powerful fish in high waters and heavy current as well.
A couple pics of the Power Trio that I took out with me today.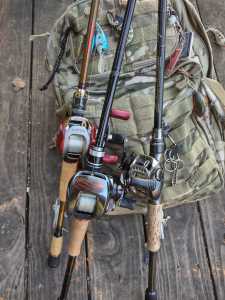 Sick trio. Gotta love a rod that is able to cover a range but also excels where it needs to. 
Topic starter
August 31, 2023 4:43 am
Yessir, and so light is the other key.  The other major plus is that the Efreet are M.I.J., and have exceptional fit and finish, although this lineup may be considered a bit spartan and plain for many that are fans of the Oltre lineup. The only shortcoming with longer powerful rods with guides built on top, is blank twist under heavy bottom pulling load.
IMO, there is no substitute for a proper spiral wrap whether it is a light power or XXH...it reduces blank twist while eliminating the need for additional "X/Cross/45 bias" carbon wraps.  Granted anti-blank twist/torque wraps + spiral/acid wrap would be the ultimate.
Topic starter
September 7, 2023 9:17 am