Topic starter
May 10, 2023 2:13 pm
Mail Call/Upgrades
Reels:
-IP68 w/ Varial 95 & Fat Sand Knobs
-Steez SV TW w/ 95mm SLP & OG Corks
-Zonda 10CL w/ 85mm SLP & Red Daiwa SLP knobs
-Yellow Pixzilla w/ 90mm SLP & OG Corks
-Antares A w/ Varial 95 & Fat Grey Knobs
-Steez A TW w/ 100mm Megabass & Megabass knobs
-Purple Alphas 103L w/ 95mm CF & OG Corks
-IP79 w/ Varial 95 & Fat Red Knobs
Some of these I've had, just needed to upgrade. REAL excited to fish the pixzilla and Zonda to see how they are. Planning to eventually upgrade them all to having clicky drag stars and clicky drags...but that's for later.
Rods:
-Sedition White Falcon 7
-Megabass P3 Destroyer Super Bandersnatch F5-70X
-Designo Leben DL-71MH+RST2S
-Designo Leben DL-611HRST2S
-Designo Wraith Foxy
More Designos for me. Yippee! They're like the infinity stones...once I have them all I'll be able to cast my lure and half of the fish population will be caught by me.
The Sedition is my first glass rod and boy is it a whole new world for me. Super whippy and plenty of bend.
Excited to get these out on the water...sometime...whenever that is...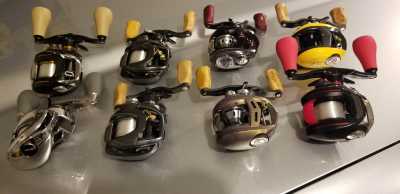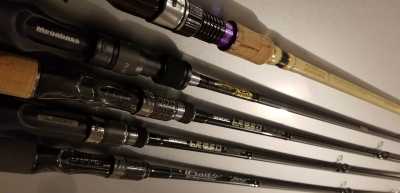 Outstanding…but I feel like this is deja vu?…
Enjoy, brotha. Great haul. 
Wow. That's not a haul; it's a straight plunder. All gems with some deep cuts for good measure. Awesome work