Carbon handle specs - help needed
Topic starter
May 22, 2023 9:35 am
Hey guys,
I am currently running Hawgtech 102mm handles on 3 of my big bait reels, and I wish to move away from them to something JDM. The main reason is the annoying backplay that Hawgtech handles are known for.
I am trying to figure out what my options are. I am looking at some of the older Studio Composite handles, as well as a few other options online, but its unknown if they will allow clearance for a 55mm drag star diameter.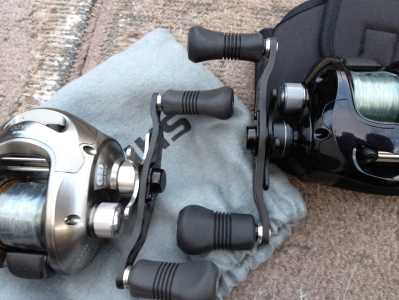 Can anyone advise with measurements? Handles in question are:
Studio Composite RC-SC Shimano fit, 100mm
Studio Composite RC-SC Plus Shimano fit, 102mm
Studio Composite RC-DC Plus Shimano fit, 104mm
Basszone 100mm
Ray's Studio 100mm
Cheers!
I can check on clearance for most of these, but it'll be a minute…maybe tomorrow as tonight's my son's birthday. Good to hear from ya, brother. You've been missed!!! 🙏🏼🙏🏼👊🏼
Topic starter
May 30, 2023 2:36 pm
Thanks guys! Okay Basszone handles are off the list. Every insight helps, I appreciate it brothers!